Injured Tug Captain Medevaced Near Key West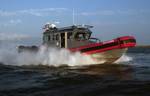 The U.S. Coast Guard medevaced the captain from the tugboat, Capt. Beau, after he reportedly sustained a fall near Long Key, Fla., Wednesday.
Coast Guard Sector Key West watchstanders launched a Coast Guard Station Marathon 33-foot Special Purpose Craft—Law Enforcement boat crew who embarked the captain and transferred him to local emergency medical services at Conch Key Marina. The 52-year-old patient was taken to Fisherman's Hospital.
Watchstanders received a medevac request from the Capt. Beau crew stating the captain of the vessel fell and sustained an injury.